1. Introduction to RTC Easy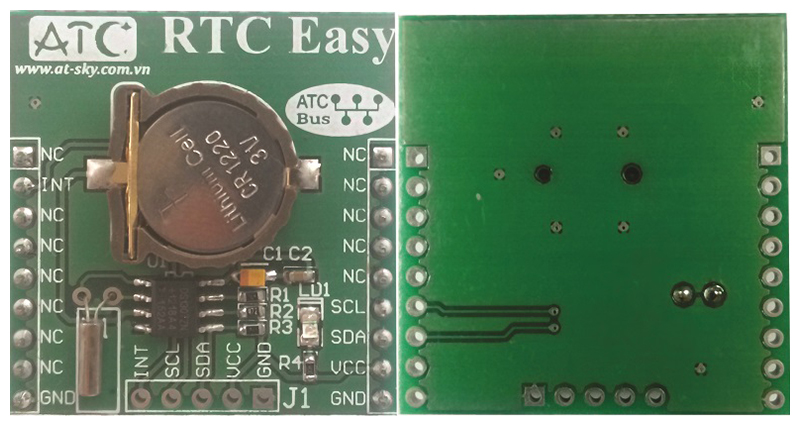 RTC Easy is a product in the ATCBus series that AT-COM provides users with real-time clock applications. The board is integrated with the DS1307 chip supporting I2C interface, 56 bytes of unrestricted RAM, combined with variable square pulse output enabling the deployment of clock, calendar, timer, and battery backup applications. Real-time data storage even when there is no power supply to the board. The ATCBus Socket Support Board makes it easy to integrate with other ATCBus products to experience the easy-to-use "Plug and Play" feature. Especially with compact size, convenient data output, RTC Easy will bring the most modern and refined design inspiration.
2. Design diagram of RTC Easy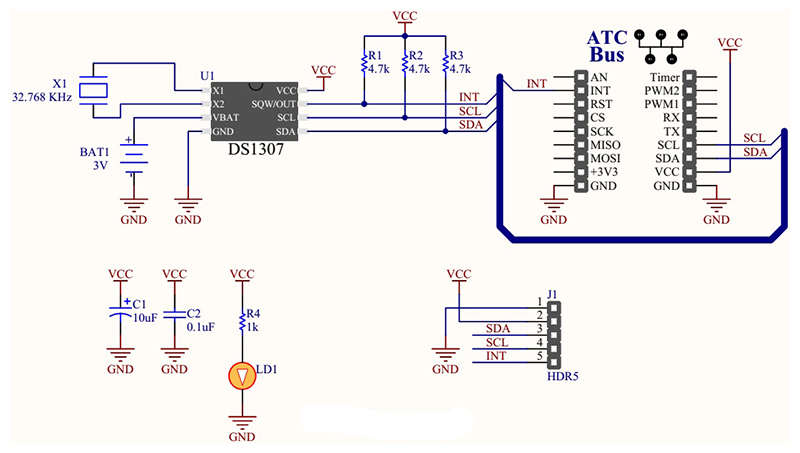 3. Feature of RTC Easy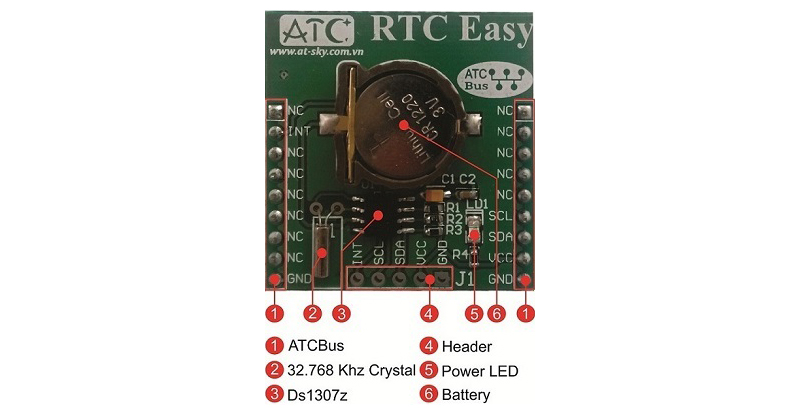 The power supply for the board is 5VDC, which is provided via the VCC pin, the GND on the ATCBus and the VCC pin, GND on the head. The power LED will light red when a 5VDC power supply is available.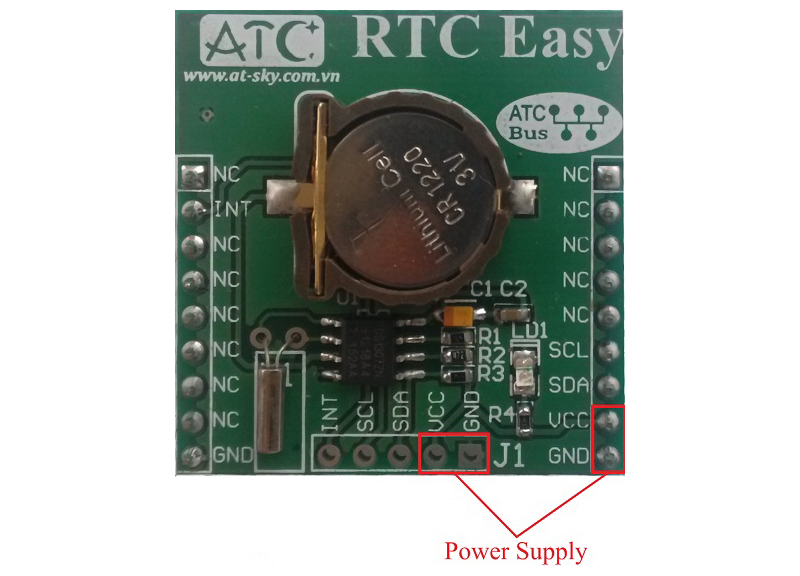 - RTC DS1307z, a compact SOIC-8 pin, supports I2C interface over SCL pins, SDA pins, and square wave pulse output INT pins that are pulled up to the source with resistors R1, R2, R3.
      32,768 KHz quartz oscillates 1 Hz for DS1307 chip connected to pins X1, X2 of DS1307.
      - Battery Lithium CR1220 3V / 35mAh to help DS1307 chip still work when 5Vdc source is not allocated to the board.
      - ATCBus Socket with ATCBus-compliant I2C pins helps users connect to the Easy Board for convenient "Plug and Play" functionality.
      - RTC Easy can easily connect to PIC Easy R1 via ATCBus Socket.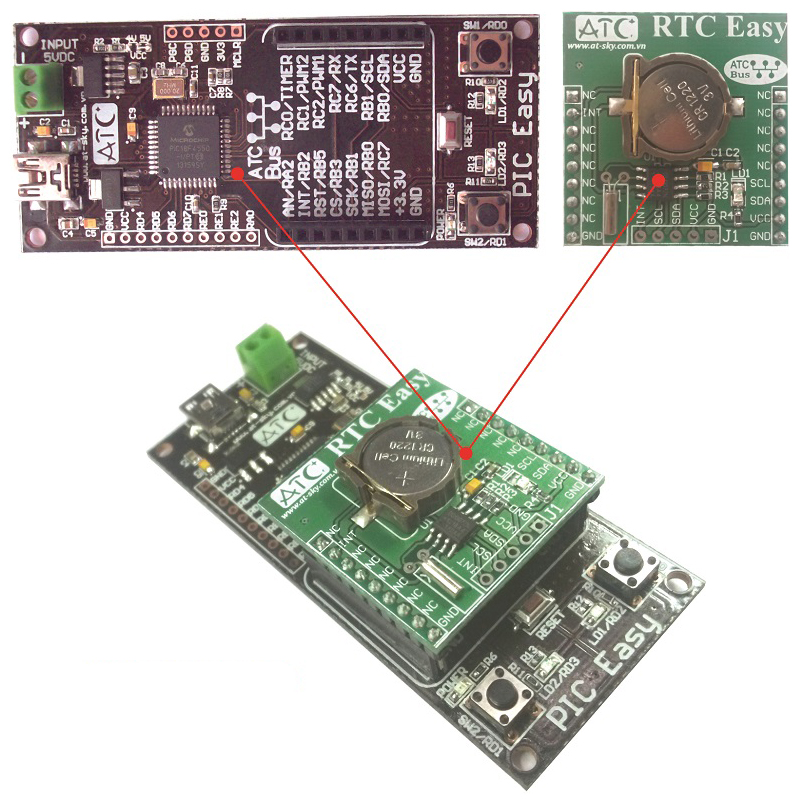 In addition, RTC Easy integrates headers with source pins, I2C and output for easy connection to any other application board.
  4. Dimension of RTC Easy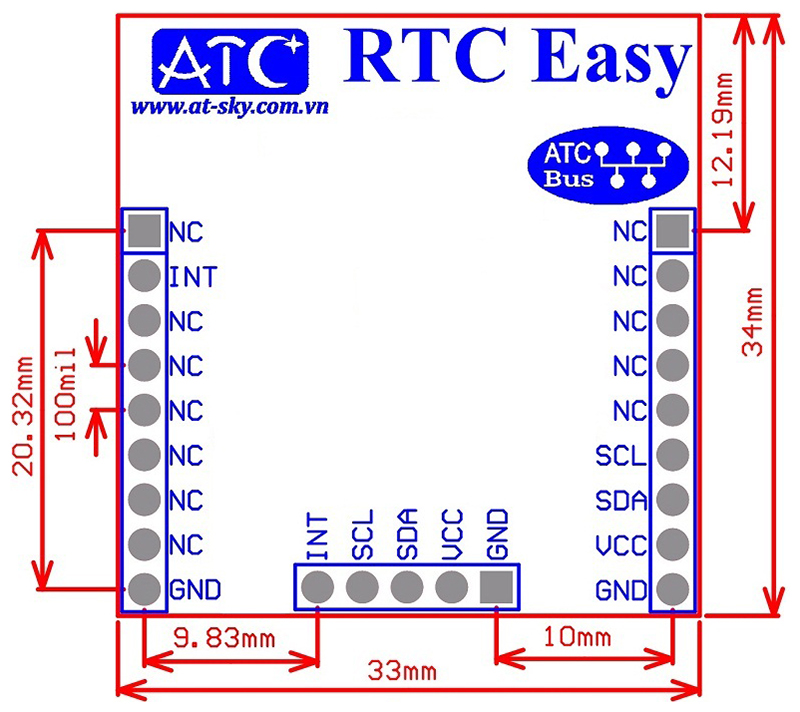 5. Video demo