1. Introduction to GPS MAX-7  Easy
     The MAX-7C is a GPS module from Ublox. With special features of Ublox 7 multi - GNSS (GPS, GLONASS, Galileo, QZSS and SBAS). The MAX-7 series offers high accuracy and sensitivity while the system is maintained by low power. The MAX-7C is optimized for high-sensitivity positioning applications that are cost-competitive.
     The MAX-7C, with its compact size (10.1x9.7x2.5mm), precision and high sensitivity, is perfectly suited for M2M applications such as mobile, automotive, personal monitoring, security and Industrial PDAs, especially suitable for special applications, like GPS and OBD mice.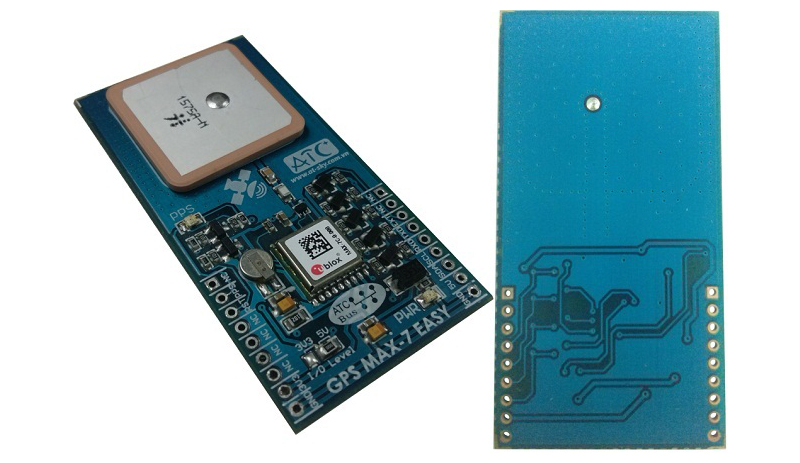 With the MAX-7C, MAX-7C is designed to deliver the MAX-7C to the user. Features include: 3V3 and 5V interfaces, patch antenna integrated on board, status light status indicator, battery back up. In addition to its compact size, handy data output, the MAX-7 Easy GPS will bring you the most modern and sophisticated design inspiration.
2. Design diagram of GPS MAX-7 Easy.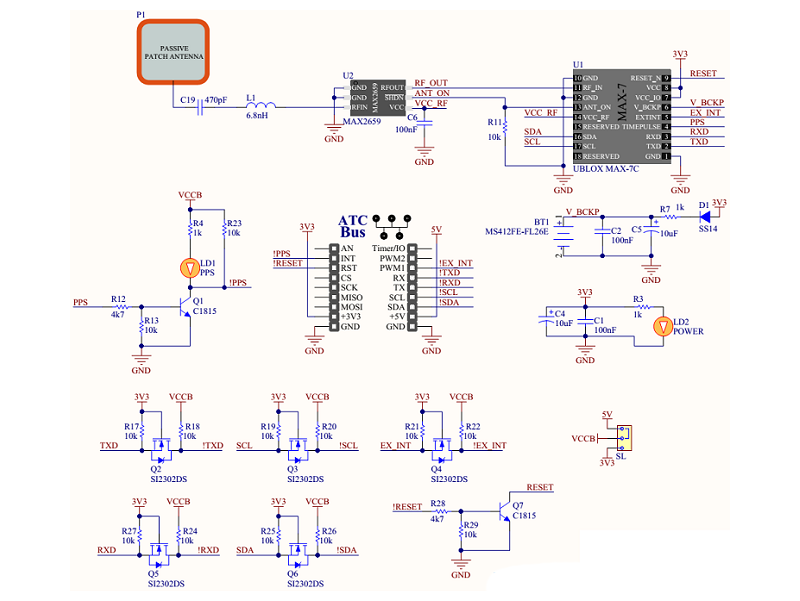 3. Features of  GPS MAX-7 Easy
The power supply for the board is 3.3V and 5V is supplied from the pins 3V3, 5V, GND according to ATCBus standard.
The MAX-7C module operates at a voltage range of 1.65-3.6V, with the MAX-7 Easy module designed to run at 3.3V for stable performance.
The board uses the Si2302 MOSFET for the UART (TXD, RXD), EXTINT, SDA, and SCL interfaces. The MAX7C can communicate with either 3V3 or 5V microcontrollers. Users can choose the 3V3 or 5V voltage through the 0R resistor (size 0805) at I / O Level 3V3 or 5V. By default, the 0R resistor is at 5V.
The highlight of the MAX-7 Easy GPS is the integrated patch antenna on the board. AT-COM has a built-in Jinchang Dielectric Antenna JCJZ2520 with a frequency of 1,575.42 MHz and a size of 25 x 25 x 2 mm, combining standard design and the use of amplifiers and signal filters for the Patch. Antenna optimizes the ability to capture coordinates.
Board is integrated LED display position: light / off with frequency 1 Hz when the MAX-7C module has captured the coordinates from the satellite and locate the position (position into the 3D state).
Battery back up on the circuit helps the MAX-7C store location information and start up faster at next times. Battery is a rechargeable 3.1V MS412FE-FL26E from Seiko, recharged through the integrated charger on the circuit.
The MAX-7 Easy GPS is compatible with the ATCBus connection standard, so it can be paired with ATCBus-enabled products for navigation applications, cruise control, etc.
4. Dimension of GPS MAX-7 Easy