1. Introduction to Breakout M66
Breakout M66 is a product developed by AT-COM based on the features of the M66 module. Breakout M66 is designed with built-in SIMCARD antenna, GSM antenna and Bluetooth connector for easy research and development of GSM / GPRS / Bluetooth related applications such as:
      - Telecommunication, transportation: automobile, truck and maritime surveillance, ...
      - Security field: camera, alarm, ...
      - Intelligent City Area: traffic lights, traffic lights, billboards, signage, ...
      - Field of payment: ATM, vending, payment card, ...
      - Health care: personal positioning, pets, health status monitoring, ...
Plus, with its compact size, handy data output, Breakout M66 will deliver the most modern and sophisticated design inspiration.
2. Design diagram of  Breakout M66
3. Features of  Breakout M66
The board is designed with 5v power supply and reverse source diode. Can be used with low currents of 500mAh or more (such as USB port). But it is recommended to use 2A (as Adapter) to make the board more stable.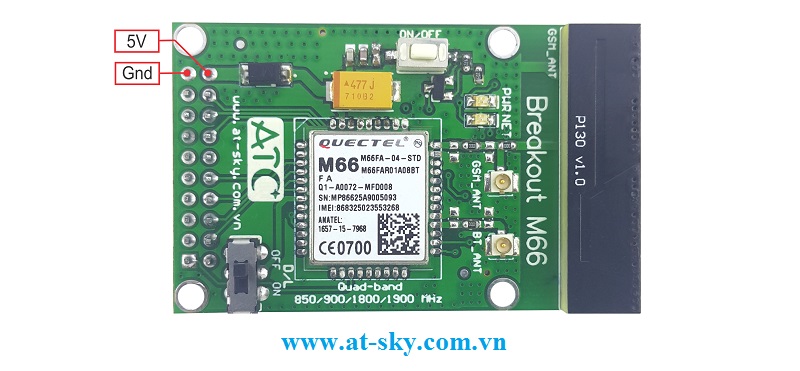 Main module: GSM / GPRS / BlueTooth M66 module.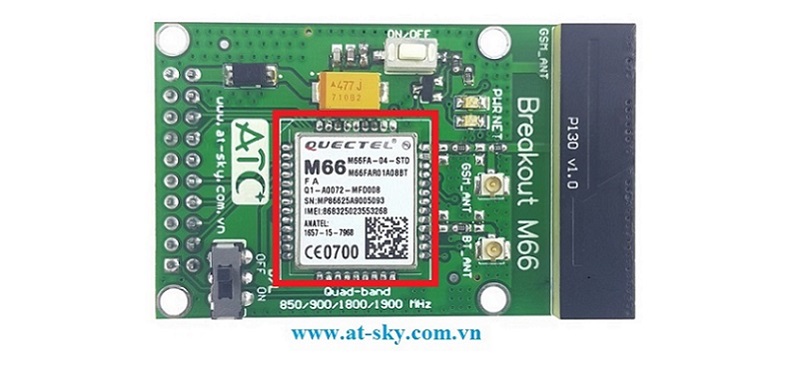 On a pre-designed circuit, the power transistor on / off for module M66. The M66 module can be switched on / off in two ways:

- Option 1: Use the on / off button designed on the circuit.
- Option 2: We provide a high level pulse on the ON / OFF pin of the 2x10 header on the circuit, the M66 module will be powered on.
On the circuit is designed Power LED to display power status. The NetLight LED shows the GSM network status of the M66 module.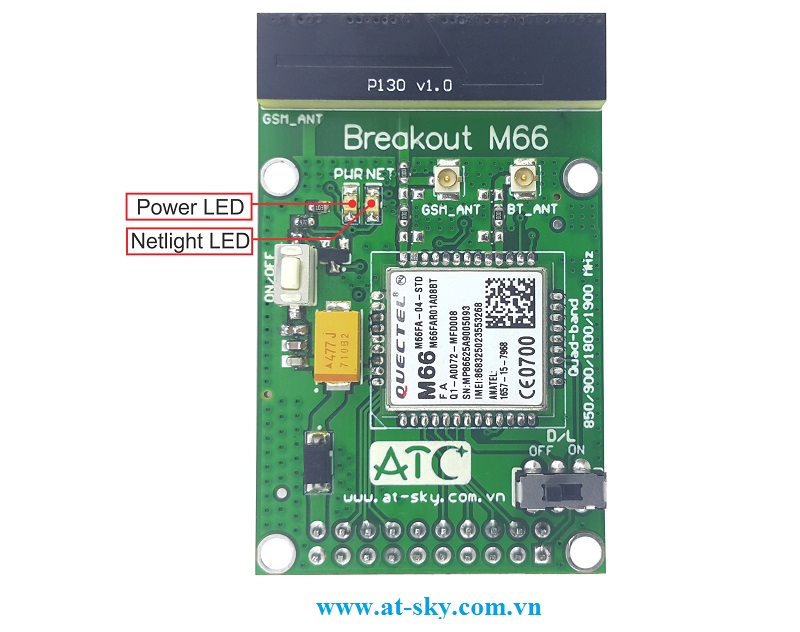 Breakout M66's outstanding features are integrated JCG130 GSM Built-in Jinchang PCB Antenna is directly welded onto the board to create high aesthetics and compact size for the product. Special antennas for excellent GSM tuning capabilities improve call quality as well as other applications of the product.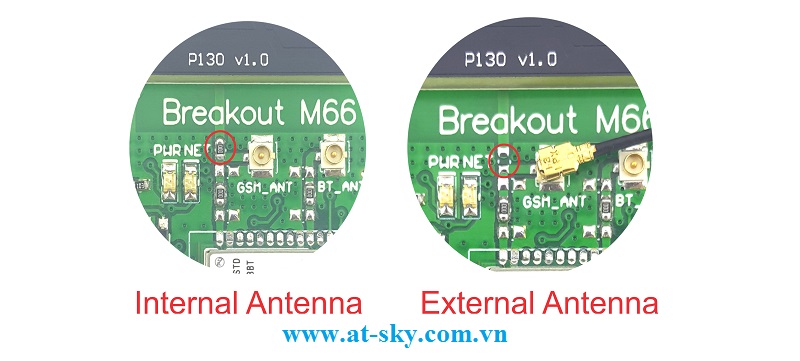 - 1 Bluetooth Ipx Connector gives users the option of using Bluetooth External Antenna.
         - 1 GSM Ipx Connector enables users to optionally use GSM External Antenna.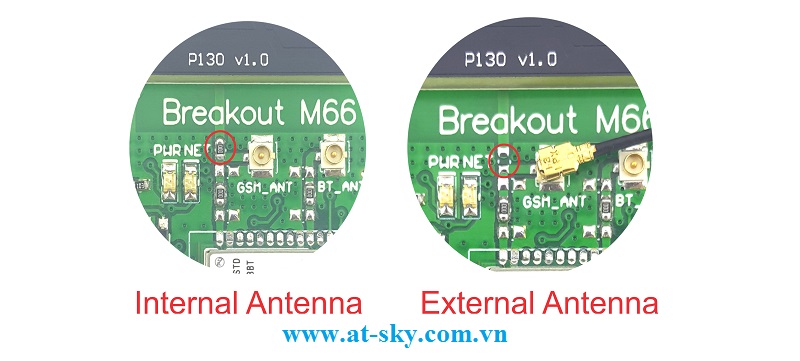 - In case users want to use the JCG130 antenna integrated on the board, connect the 0 ohm 0603 resistor.
- In case you want to use GSM External Antenna, just disconnect 0 ohm 0603 resistor connection and connect GSM External Antenna over IPX Connector.
Built-in simcard push-push sim card for easy and easy connection.
Breakout M66 is designed with a 2x10, 2.54mm header that allows the user to use M66 features such as ON / OFF, NET, SPEAKER, MIC, RS232, UART_AUX, DEBUG, VCC, GND, VDD_EXT.
The circuit is designed with the Switch support Download Firmware for OpenMCU function of module M66 extremely convenient.
- Switch OFF: Module M66 works normally.

- Switch ON: module M66 into Download Firmware mode.
4.  Dimension of Breakout M66
 5.  Video Demo
M66 Open CPU positioning with QuicLocator and update FOTA control via SMS